These are flat belts provided with longitudinal wedge ribs on one side. They are also called ribbed, Poly-V or Micro-V belts. These belts combine great flexibility of flat belts and high power of V-belts. The belts are designed for use at higher circumferential speeds, and are also suitable for smaller pulley diameters, large gear ratios and multi-shift gears. Belts have a constant stroke across their width. Durable rubber mixture from which ribbed belts are produced ensure smooth and quiet running, heat resistance, long service life and oil resistance. Of course, the rear tensioning pulleys can also be used for these belts. With rigid axial distances, the elastic design of ribbed belts can be used.
Ribbed belts are produced, as well as timing belts, in the sleeves, from which the individual belts with the necessary number of ribs are cut off on a special cutter. It is also possible to obtain the cut-off belts directly from the production, marked with an exact description of the profile, length and number of ribs. For the correct identification of the belt, it is necessary to know either the data on the belt or the length of the belt and the rib spacing (or the belt width and the number of ribs).
Ribbed belts consist of three layers:

1. Top of the belt – Made mostly of wear-resistant polychloroprene rubber compound
2. Tension cord – This is a polyester draw cord with low flexibility molded in an adhesive rubber compound
3. Ribs – The bottom of the belt is provided with rib-shaped ribs made of abrasion resistant rubber compound
Ribbed belts are standardly produced in several profiles. Thanks to this, they can be used in different areas.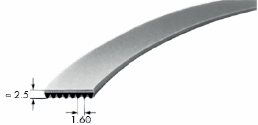 Profile PH
Belts with this profile are mainly used in household appliances, medical devices, machine tools, small conveyors and conveyor belts. Belt lengths range from 594 - 2155 mm.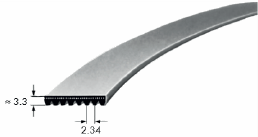 Profile PJ
These belts are among the most used. Often we can meet them with white goods, small tools, mixers, compressors, etc. PJ profile belts are standardly produced in lengths of 280 - 2489 mm.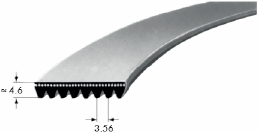 Profile PK
Thanks to greater pitch and belt thickness, this profile is mainly used in fans, air conditioners, saws (for cutting concrete, wood, etc.) or in industrial washing machines. It is produced in lengths from 630 mm to 2845 mm.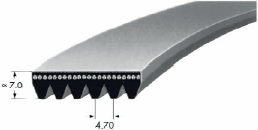 Profile PL
These belts are already quite large. They are used in large industrial washing machines or compressors with a capacity of over 30 kW. PL belts are manufactured in lengths from 594 mm to 6096 mm.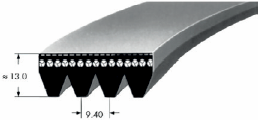 Profile PM
This is the largest type of ribbed belts. They are used in large industrial and agricultural machinery such as sugar cane cutters, paper processing machines, etc. They are produced in lengths of 2286-16,764 mm.
Elastic ribbed belts
Elastic ribbed belts, as well as classic ribbed belts, consist of three parts. There are, however, some differences that make these belts a new feature. The upper side of the belt is coated with a rubber compound reinforced with transverse strands. These fibers give the belt greater stability. In the case of these belts, the draw cord is made of flexible polyamide, which allows some belt elasticity. The ribs are made of a rubber compound characterized by high wear resistance.
The advantages of elastic ribbed belts are:
» Possibility of mounting even on machines with tightly fixed pulleys without possibility of tightening
» One length belt can be used for different drive configurations
» Thanks to the flexibility, the belts are more shock-resistant
» Belts are maintenance-free (they don´t need to be tighten)
» Easy to replace (eg in production lines)
Elastic straps are newly manufactured in three profiles - EPH, EPJ and EPK. The EPH profile is produced in lengths from 700 to 2200 mm, EPJ profile in lengths from 280 to 2500 mm. EPK profile belts are available only on demand.

Automobile belts
Optibelt RBK SCC
This is a novelty in Optibelt's automotive belts. With today's high quality products manufactured to the highest standards and materials such as EPDM, it is not possible to reliably detect wear without using the appropriate tools. It can happen that the wear limit can be exceeded without anyone noticing it. This has to be avoided by the RBK SCC belt made from EPDM. Once a certain level of wear is achieved, the red color of the ribs will appear on the surface, making it easy to get to know the wear.
Benefits of the RBK SCC Belt:
» The one and only ribbed belt with wear indicator
» High temperature resistance due to EPDM material (-40 ° C to + 130 ° C)
» Preventing unwanted failure
» Without the need to use various tools to recognize wear
Optibelt also offers the use of new belt finishing - the so-called lotus effect. Such a surface reduces belt noise, allows optimum performance even in a damp environment and does not slip.
Optibelt Truck Power
It is a high performance ribbed belt for all modern drives in utility cars or buses. These belts enable the development of cars to achieve flexibility, light construction and cost optimization. Even under the influence of the environment, such as dust, humidity or extreme temperatures, the ribbed belts ensure safe and quiet energy transfer.
Compared to conventional ribbed belts, these upper layers are made of EPDM material. The advantages of these belts include high power transmission, high temperature resistance, low noise and vibration.
Optibelt RBK elastic
Also, in the automotive industry, elastic ribbed belts can be used. Due to its characteristics, this belt does not need to be tightened and is ideally stretched over its lifetime. Compared with the elastic belts mentioned earlier, these are coated with EPDM material that increases the belt's thermal resistance. 
Special ribbed belts
Optibelt Omega RB
This is a special flat belt with a toothing on one side and ribs on the other. These belts are mainly used in mills where the rear pulley is used in the drive, and the belt can be slipped from the pulley when the truck is stopped steeply. An important factor is that both teeth and ribs are created in one working step (they are not glued later).
Dunlop polyurethane ribbed belts
In addition to conventional polychloroprene ribbed belts, polyurethane belts can also be provided. These belts are reinforced with a polyester pull cord. Polyurethane belts are extremely resistant to oils, water or ozone. Most commonly, these belts are used in the food industry, lawn mowers, electric appliances, power tools, etc. Elastic polyurethane belts are also available on request, which allow operation without tension rollers, reduce noise and vibration. Dunlop offers polyurethane belts with PJ, PH and TB2 profiles.