Hoses are used to transport gases, liquids and loose materials. They are also part of many machines. They are usually made of flexible rubber or plastic. They are flexible and to some extent also resistant to non-destructive mechanical stress, internal overpressure or vacuum. BOHEMIA SEAL supplies hoses of the Czech manufacturer SEMPERIT, Ltd., and silicone hoses of European quality.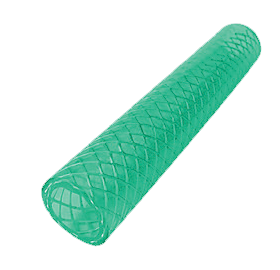 HOSE RW501 - PVC FOR GENERAL USE
Hose for water made of PVC, DN 6, 8, 10, 12.5, 16, 19, 25, 32.
» Hoses for transporting air, water and aqueous solutions of substances for technical purposes
» Wall: soft PVC, standard color green transparent (on demand also white transparent)
» Reinforcement: a yarn of synthetic yarn
» Working temperature: -5 ° C / + 40 ° C
» Dimension 19/26 to order even in length of 100 m
» Previously under PN 21 / 501-93
HOSES FOR ABRASIVE MATERIALS
Hose for blasting SM1: DN 13/27, 19/33, 25/39, 32/48, 38/56
» Hoses for the transport of sand, steel shot, silicon sand, corundum and other abrasive materials
» Designed for blast cleaning
» Inner tube: black, smooth, SBR / NR / BR
» Suitability: approx. 36 mm3
» Reinforcement: textile liner, wool
» Packaging: black, smooth with textile print, electrostatically conductive, SBR
» Working temperature: -35 ° C / + 80 ° C
» Top between jet hoses
Hoses for water and multipurpose hoses
General purpose hoses: MP20-EPDM, DN6-38MM
» Hoses for industrial water and air transport, recommended for many industrial and agricultural chemicals
» The inner tube and the cover are resistant to temperatures, sunlight, ozone and weather
» Inner tube: black, smooth, EPDM
» Reinforcement: synthetic yarn, sheep
» Cover: black with blue strips, smooth, EPDM
» Working temperature: -40 ° C / + 95 ° C (short time +110 ° C)
Water hose: IW6, DN13-25MM
» Hoses for industrial water transport
» Inner tube: black, smooth, SBR
» Reinforcement: synthetic yarn
» Packaging: orange, red or black, positive grooving, SBR / NR
» Working temperature: -30 ° C / + 70 ° C


HOSE FOR WATER AND COMPRESSED AIR
Hose for air and water: PLE / PL15, DN10-60MM
» Hose for transport of industrial water and air containing oil
» Inner tube: black, smooth, SBR
» Reinforcement: synthetic yarn
» Cover: black, smooth, abrasion resistant, SBR
» Operating temperature: -35 ° C / + 70 ° C
Air and water hoses in mines: AR409, DN 16 and 25MM
» Hoses for air transport and industrial water in mines
» Inner tube: black, smooth, SBR / NR
» Reinforcement: synthetic yarn
» Cover: black, smooth, SBR / NR
» Working temperature: -30 ° C / + 70 ° C
GAS HOSES
Welding Hose - Acetylene: DN8-20MM
» Hoses for the transport of acetylene and other combustible gases for flame welding and cutting
(except for LPG, MPS and CNG)
» Also suitable for natural gases, hydrogen and other flammable gases
» Inner tube: black, smooth, EPDM
» Reinforcement: textile yarn, sheep
» Packaging: Red, Smooth / Negative Grooving, EPDM
» Working temperature: -30 ° C / + 70 ° C
Hose for welding Oxygen: DN6-20MM
» Transport of oxygen
» Inner tube: black, smooth, EPDM
» Reinforcement: textile yarn, sheep
» Packaging: blue, smooth / negative grooving, EPDM
» Working temperature: -30 ° C / + 70 ° C
Hose for welding: GWPB, DN4-10MM
» Transport of liquefied petroleum products, mixtures of methylacetylene, propandiene and natural gas
» Inner tube: black, smooth, SBR-NBR
» Reinforcement: textile yarn, sheep
» Packaging: orange, smooth / negative grooving, EPDM
» Working temperature: -30 ° C / + 70 ° C
SILICONE HOSES
» Silicone hose for the food and pharmaceutical industry, transport of alcohols, oils and dairy products
» White or transparent, food quality
» Material: Silicone, FDA, 60 Sh
» Working temperature: -40 ° C / + 200 ° C (short time +230 ° C)